Honoring Lawrence Hahn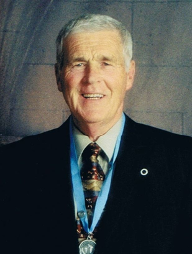 In 1953, as a sophomore at East Tennessee State University Mr. Hahn began working at the Johnson City Boys Club. In 1958, as an unknown college graduate, he was named the charter Executive Director of the Boys Club of Oak Ridge – the youngest Boys Club Executive Director in the nation. The Oak Ridge Club was formed in an approximate 1,200 square foot abandoned dilapidated wooden structure. Through Mr. Hahn's leadership and enthusiasm, he built a large productive network of volunteers and influential benefactors. Piece-by-piece and year-by-year for 51 years his diligence, and profound commitment to the Club's mission resulted in thousands of lives being touched and the construction of modern Club facilities with a gymnasium, learning center, and four athletic fields. Most importantly, Mr. Hahn's commitment and passion for the Boys & Girls Club movement positively affected generations of youth and adults.
Mr. Hahn and his wife Barbara raised three children of their own (David, James, and Eva) while he continually exceeded the obligations of his position by standing in as the only father figure many boys ever had. Mr. Hahn made certain that they were nourished and received many of the joys in life that more fortunate families did. Mr. Hahn has seen members, their sons, and now their grandsons and granddaughters go through the club. Many of his original members are now retired, but he is still involved in their lives and is among the first there when there is a need as he continues to represent the club, and is an active and essential part of our fund raising and community relation efforts.
Mr. Hahn founded the club's Alumni Association in 1982. The Alumni Association is one of the largest and most productive club Alumni Associations in the Nation. It has given hundreds of thousands of dollars and thousands of hours of service to the club. More than anything this is a testament to the debt of gratitude and admiration that its members have for Mr. Hahn, and the love they have for him as their mentor and friend. Always demanding the best of his club members, they still measure themselves in part by how Mr. Hahn would view their actions today. No one in our Oak Ridge's history has sacrificed or given more of them self as Mr. Hahn has for the children and families of the Oak Ridge and surrounding communities. He is legendary and will always be thought of and remembered as one of great and gifted people who formed the very foundation of our city. His lifelong commitment and love for our club has made it a critically important and vital part of our community. Oak Ridgers are proud that our club now carries the name of Lawrence Hahn. Not only because we wish to honor him for what he has given us, but also to preserve what we are, and want to continue being for years to come.
Mr. Hahn was a member of the Boys & Girls Club of America Professional Association, served three terms as Executive Secretary of the Tennessee Area Council of the Boys & Girls Club of Tennessee and served on and chaired numerous State and National Area Council committees. Locally he has also been active as a longtime member of the Oak Ridge Rotary Club, the Loyal Order of the Moose, as a Charter and current member of the Oak Ridge Sports Hall of Fame Board of Directors and has served numerous appointments to ad hoc committees by City officials and the Board of Education. Mr. Hahn has been the recipient of many awards over the years including: The Boys & Girls Club of America (BGCA) Man and Boy Award, the BGCA Bronze Keystone Award, the BGCA Light the Path Award, the BGCA National Service to Youth Award and the BGCA National Professional Service Award. Other awards he has received include the Rotary Vocational Service Award, the Sertoma Service to Mankind Award, the Fraternal Order of Eagles Service Award, the East Tennessee Chapter of the National Football League Foundation and Hall of Fame Distinguished Service Award, the Rotary Club Paul Harris Fellow, the Outstanding Tennessean Award – presented by Governor Lamar Alexander and he is enshrined in the Oak Ridge Sports Hall of Fame.
Mr. Hahn gave 56 years of continuous service to Boys & Girls Clubs of America throughout Tennessee. The first 55 years were as a paid staff member of Boys & Girls Clubs including 4 years at the Boys Club in Johnson City, Tennessee from September 1953 through December 1957 followed up by 51years as Executive Director of the Boys Club and later the Boys & Girls Club of Oak Ridge from January 1958 until retirement in August of 2009. Since that time he has served as a volunteer worker and consultant and was appointed by the Club Board of Directors as Executive Director Emeritus of the Boys & Girls Club of Oak Ridge in August 2009 following retirement.